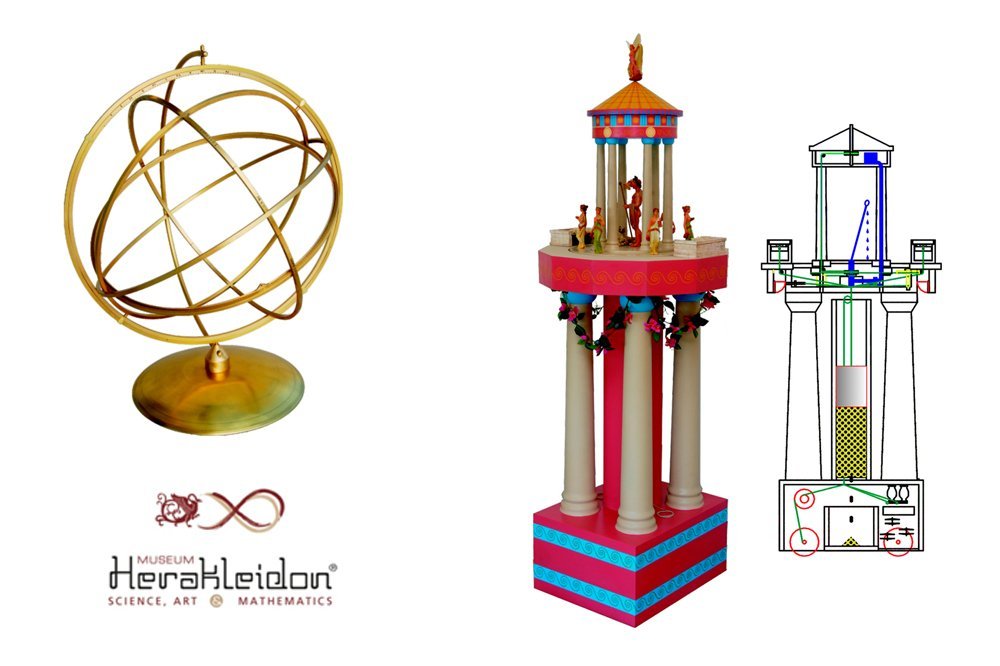 August 24, 2015
In
News
The amazing inventions of the ancient Greeks
The exhibition "The amazing inventions of the ancient Greeks" presents functional models of some of the most extraordinary ancient Greek inventions, from the "robot-servant" of Philo and the "hydraulic telegraph" of Aeneas to the "cinema" of Hero, and from the automatic clock of Ctesibius and the astrolabe of Ptolemy to the "analog computer" of Antikythera – a selection of the exhibits of the Museum of Ancient Greek Technology Kostas Kotsanas that operates at Katakolon port and Ancient Olympia, which were constructed after a long and extensive study of ancient Greek, Latin and Arabic literature, information from vase painting and the few relevant archaeological finds.
This exhibition aims to demonstrate that the technology of the ancient Greeks, just before the end of the ancient Greek world, was shockingly similar to the beginning of our modern technology. An important cultural initiative, which promotes Greece internationally as the foundation of Western civilization.
«Τhe bolts and nuts, gears and rules, pulleys and belts, sprockets and roller chains, pistons and cylinders, springs, hydraulic controllers and valves, programming devices and auto-pilots (all parts of the engine of a modern car) are just some of the inventions of the ancient Greeks which were the foundations of their complex technology», says Kostas Kotsanas, creator of the exhibition. «These unique legacies continue to constitute today the building blocks of our modern technology, the development of which would be doubtful without the free and undemanding adoption of this ancient know-how. Humanity simply needed to mature another millennium in order to "recover" this remarkable forgotten technology. The exploration of this age, when no claim to ownership of peak technology was made, demonstrates how much more (than we think) modern western technological civilisation owes to the Greeks».
The Museum Herakleidon has been bringing art, education, and culture to the general public since 2004. The inspiration for this endeavor comes from the founders Paul and Anna-Belinda Firos. Today the Museum Herakleidon has evolved into an interactive center for popularized science. Based on its philosophy of "Science, Art, and Mathematics", it provides original educational programs for students, teachers and adults at its main building (Herakleidon 16, Thissio), as well as exhibitions of art and popularized science at its annex (Ap. Pavlou 37, Thissio).