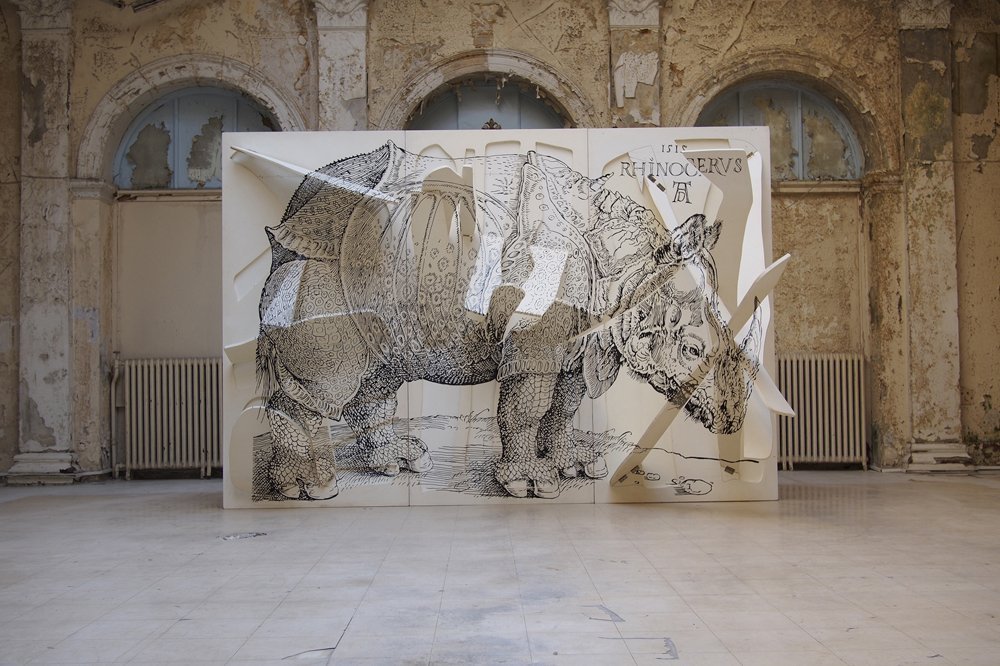 July 16, 2015
In
News
Athens Biennale in Greece
The opening of the Athens Biennale 2015 -2017 begins with the installation of two large-scale works at the hotel Bageion. In the former ballroom the work Rhinoceros, 1997 ,by Nikos Kessanlis is displayed and in the facade of the building the sign Άντερ Κονστράξιον (ie. Under Construction), 2015, by the Underconstruction Group.
The Rhinoceros was first reconstructed almost twenty years after its last presentation. The work of historical artist Nikos Kessanlis (1930-2004) is in dialogue with the under construction site of Bageion and the connotations that it carries on the current socio-political condition. It is part of a series of visual creations which Kessanlis experimenting with the structure of the image, by freeing it in the space and overthrowing the painterly qualities and origins. At the Rhinoceros is displayed the iconic engraving by Albrecht Dürer – the representation of a rhinoceros that the engraver had not actually ever seen. This radical gesture of Kessanlis suggests a revision of the traditional means of artistic creation but also refers to the ability of art to conjure up and gives new meaning of its contemporary reality. On another level, the Rhinoceros is talking with Omonoia through the counterpoint to the Tail, 2003, the large-scale installation of Kessanlis in the underground station beneath the square. The chaotic pace of the station contrasts with the icy melancholy of Bageion, but Kessanlis works at both treaties and beyond.
Our reference about this article is originating from the official biennale website.